Oakcreek was started in 2009 by an initial group of eight households who wanted to retire in Stillwater but couldn't find a suitable housing alternative here. This initial group began researching cohousing and looking into the options for building, siting, financing and marketing our new community. We hired the architectural firm of McCamant & Durrett (who had brought the cohousing idea from Denmark and pioneered it in North America) and engaged the consulting services of Cohousing Partners (now Cohousing Solutions) to assist with the development process. In September 2009, we created a limited liability company (Stillwater Senior Cohousing, LLC) to serve as a temporary entity that would build the community and sell homes to the initial group of homeowners.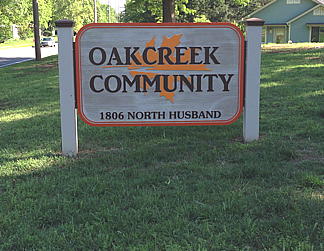 Cohousing is unique in that the future homeowners work with the architects from the beginning – to design the neighborhood to fit the vision and values of the people who will live there. The result is a neighborhood where community naturally occurs. A series of workshops, facilitated by the architect, engage the future homeowners in the design process. The Getting It Built workshop, held in December 2009, moved us quickly into the formation of our community and expanded our understanding of the exciting journey we were about to undertake
On February 16, 2010, we purchased the 7.5 acre (3 hectare) site at 1806 North Husband Street in Stillwater. This site includes lots of beautiful trees and a creek on its west edge. It's located within a one-mile radius of a large grocery store, banks, shopping centers, high school and university sports venues, movies, many restaurants & coffee shops, walking/biking trails, Boomer Lake and a health center.
Ten committed households participated in the Site Planning Workshop in April 2010, where our architect, Chuck Durrett, led us through an intensive discussion of our goals for living together in an intentional community. We divided into two workgroups, each group creating a site plan. Then the groups critiqued each other's work and redesigned the plan. Additional revisions emerged as we re-evaluated the plan to see how well each element met our goals, until we chose our final plan for all 24 homes, the common house and the location of all components of the neighborhood. We selected the name "Oakcreek" for our cohousing community in May 2010.
With twelve households participating, we held our Common House Workshop in June 2010. Goals were established for the common house activities and the program for this space was established through brainstorming, discussing and deliberation. This program guided each process as we created the spaces that are to be designed into the common house.
The photo to the right shows one of our small groups working on prioritizing the various activities that required a "place" in the common house.
Our Private House Workshop was conducted in July 2010. Three exciting days with our architect, Chuck Durrett, resulted in the schematic development of floor plans for our homes. We decided that four sizes of homes will be available, ranging from 702 to 1190 sq.ft.
In September 2010, we completed our schematic design phase and submitted the application for our Planned Unit Development to the City of Stillwater. The Stillwater Planning Commission approved our project in October and the Stillwater City Council gave their unanimous approval on November 1, 2010.
In 2011, we hired Scott Campbell, a local builder in Stillwater, to do our construction. We continued to work out financing details and to market our community, holding regular Open Houses on the Oakcreek site. We also held our first Community Building Workshop with Annie Russell (and we have continued to hold several more of these, most recently in March 2015).of our small groups working on prioritizing the various activities that required a "place" in the common house.
We held our official Ground Breaking on October 6, 2011: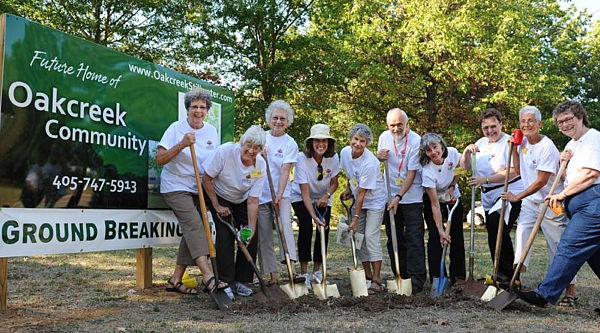 Actual construction began later in October 2011 and was completed in October 2012. The first group of homeowners closed on their home purchases on October 23, 2012, and some began moving in the next day.
Watch a video about Oakcreek that aired on the Oklahoma Horizon TV program on October 7, 2012, shortly before the Oakcreek homes were ready to be occupied.
All of the 24 Oakcreek homes were sold by the end of 2013. Then, in 2014, our temporary LLC was dissolved, having served its purpose of overseeing the construction and selling all the homes. From this point, any Oakcreek homes that become available will be sold by their current owners (or their heirs, executors, etc.), as these are privately owned homes now.